About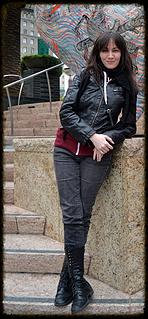 I'm a 3D character animator with 12 years of experience in feature film, VFX, and cinematics for AAA titles. I'm currently working in feature film for Animal Logic in Vancouver, BC. In previous chapters of my life I have lived and worked in Montreal, Portland, San Diego, Seattle, San Francisco, Minneapolis, and the rural mountains of Japan where I taught English to wee Japanese children with the JET Program.
After teaching English for a few years overseas, I decided to return to the States to pursue my lifelong passion to work in animation. I earned my MFA in Animation & VFX at the Academy of Art University in SF, where I had the privilege of being accepted into the Pixar classes for 3 yrs. I have since worked for Sony, Laika and Method Studios to name a few.
Outside of work, I'm a proud mama and love to travel, draw, or dabble in my various other hobbies. I'm always eager to learn new skills and improve my craft through new opportunities.
Feel free to contact me at dgrande[@]gmail.com.